We'd like to thank our Patient-Parent Advisory Committee and Cobalamin Steering Committee for their contributions to our toolkits, checklist and guides.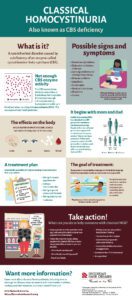 Classical Homocystinuria (HCU) doesn't have to be confusing. Recordati Rare Diseases had created a infographic that reviews what Homocystinuria due to Cystathionine Beta-Synthase (Classical HCU) is, it's signs and symptoms, the effects on the body, it's inheritance, how it's treated and goals of treatment.
With permission of HCU Network America, The Kings Faisal Specialist Hospital and Research Center translated HCU Network America's Classical Homocystinuria Toolkit. They have also added pieces from the Australasian Society for Inborn Errors of Metabolism (ASIEM).
Would you like to request a physical copy of any of the tools seen above?
Fill out the form below and we are glad to send you physical copies.