#GivingTuesday is a global day of giving powered by social media and collaboration. Celebrated on the Tuesday following Thanksgiving (in the U.S.) and the widely recognized shopping events Black Friday and Cyber Monday, #GivingTuesday marks the beginning of the charitable season, when many focus on their holiday and end-of-year giving.
How do I get Involved?
Facebook
This year Facebook and PayPal are partnering to Match $7Million dollars worth of donations! Facebook and PayPal will match donations starting at 8 am EST and continue matching donations to nonprofits until the $7M match runs out.
We encourage you to reach out to your Facebook family in advanced and get them to pledge a Facebook donation first thing.

Share your Story
Record your story and share it on your Facebook Fundraiser.
Tell them:
Your name and where you are from
What type of Homocystinuria you have
When you were diagnosed
How the diagnosis has affected you
Give them a walk through of your daily life (not all will apply)

What it's like giving/getting a B12 injection
Formula and Medications
Weighing out food
Keeping a food log

Any other negative side effects
What their donation would mean to you and your family
Post an #UnSelfie
The #UNselfie, or the selfless selfie, is a powerful way to show how and why you are giving. Here's 3 quick steps to becoming an #UNselfie master: Take a "selfie" with a caption to explain how or why you and/or your friends are giving. Add the hashtags #UNselfie and #GivingTuesday. Post it to Instagram, Facebook, Twitter, Snapchat - share far and wide & get your friends to join you!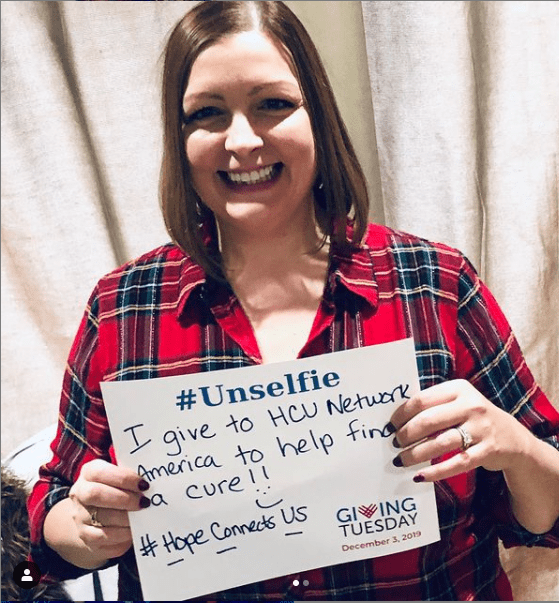 Annual Appeal Letter
Not on Social Media? Use the Thanksgiving parties as a chance to share our annual appeal letter. In it include a picture of the person in your family affected by HCU. Include a description on how HCU has impacted you and your family and what their donation would mean to you.